All pieces are hand-made to order from our artist studio in Melbourne, Australia.
FREE Australia wide (on $78-80 or more spend in one transaction, delivered within Australia) usually arrives in 3-7 working days once dispatched (2-5 working days).
[approx. 5-12 days total]
NB: Parcel or express satchel is best for larger items – tassel necklace, rings, stud earrings and brooches as these items need to be BOXED to avoid postal damage.
PLEASE CONTACT ME IF REGISTERED/SIGNED POSTAGE IS REQUIRED –  I AM HAPPY TO ADD IT ON – (the post office is my second home these days 😉 OTHERWISE I ACCEPT NO RESPONSIBILITY FOR LOST OR STOLEN GOODS.
EXPRESS POST/URGENT ORDERS
EXPRESS POST costs a bit more but is a tracked service and usually arrives in 1-2 working days once dispatched [1-4 working days].
However, I will also view these orders as URGENT ORDERS and give them priority.
Please email or leave me a note at checkout if your order is urgent. I will reply ASAP and let you know turnaround time and plan…..
BE SURE TO MAKE CONTACT – it inspires me to work faster (and with extra love) if I know its for a birthday gift or needed for a special event etc.
International shipping (outside Australia) is available USA, UK, Canada… I think you need to put the address in and then use the cart calculator.
Please email me if you have any Q's as this section is still quite new to me. I am happy to reimburse excessive post costs made up by computer if it doesnt cost me that much at the PO. Most of my items are flat and can go as 'letter' so often not more than $5 – can be closer to $20 if it requires a bigger parcel.
Usually arrives in 2-3 weeks Air Mail – dep on customs.
Stay in touch with me via email – I will send you a quick note when your parcel is dispatched.
Only Express Post (or a signature upgrade noted at checkout) can be tracked.
ALL NEXT ROMANCE JEWELLERY IS MADE TO ORDER & COMES GIFT WRAPPED WITH A 30 DAY WARRANTY.
• 14 DAY RETURN – If the product can be returned in its original saleable condition ASAP I can offer a credit note or exchange (excl. postage). In some circumstances a refund (ex.postage).
Our Art Print Jewellery range is made from a special lightweight poly(polymer)resin formula.
Vicki's polyresin technique has been an evolving process over the past two-three years, to create work that is unique in the marketplace and that shows the gorgeous illustrations and images in a wearable art format that is durable, washable and lightweight.
sterling silver / silver filled / 18kt gold filled chains / 14kt gold filled hooks ('filled' chain contains 60% more real gold/silver than plated jewellery, usually triple coated copper or brass with an anti tarnish layer – nickel free)
How should i look after my Next Romance pieces?
TASSELS:  To prolong the life of your tassels – roll tassel in paper (ie; stickynote) or foil when packing or travelling – hang when not in use to keep nice and straight.
STERLING SILVER will keep it's shine longer if kept away from other tarnished jewellery and air – pref in a zip lock bag when not being worn for a period of time.
Blackened silver can be cleaned with aluminium foil, bi-carb soda & boiling water. (SEE MY FACEBOOK DIY HERE) OR  TOOTHPASTE and an old toothbrush.
ART PIECES are fragile and should be looked after like most art and jewellery, keep things that may scratch away from the art surface.
Try and avoid perfumes and chemicals on the picture side. Water and heat should be fine. Direct prolonged sunlight may fade image.
Absolutely exquisite…….looks great. Beautiful quality product.
Beautiful earrings, excellent service, thank you!
Gorgeous necklace/statement piece. Arrived very quickly after it was ordered and was exactly as described! Cannot wait to wear it for an upcoming special occasion! Thanks so much!!
Beautiful earrings and I immediately received many compliments! The tassel is soft and smooth, unlike most sold at retail stores.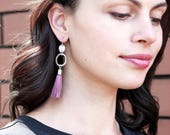 Gorgeous earrings. Thank you! Would love them even more if they had a pin instead of hook but still love love love them!
My bridesmaids wore these earrings and they were a perfect balance of colour. Fast postage, lovely communication. Gorgeous.